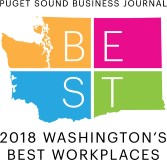 Puget Sound Business Journal named Murphy & Associates as the #1 Best Place to Work in the State of Washington on Thursday, August 16th. The award was based on employee survey results and marks a milestone for the company.
"This is the fourth year in a row that we have been nominated, and we are beyond thrilled that we won. It really is a testament to the great work that our staff does in supporting employees out in the field" said VP of Partner Management, Judi Brittin.
The competition was stiff; hundreds of companies threw their metaphorical hats into the ring, and a total of twenty-five companies were made it to the final selection round in the Large Company Category. A group of six employees represented Murphy & Associates at Best Workplaces Festivities at Safeco Field. Along with winning first place, highlights included all you can eat hot dogs and an encounter with the Mariner Moose.