We are very fortunate to be associated with Cindie Stevens. With over 27 years of IT experience and an infectious smile, Cindie brings to the table a unique blend of professionalism and fun.
Back in 2004, a couple of co-workers referred Cindie to Murphy & Associates, and in the intervening years, we have partnered with Cindie on a handful of different roles. Her 17 years working with ETL (Extract/Transform/Load) and her expertise with Informatica make her extremely employable.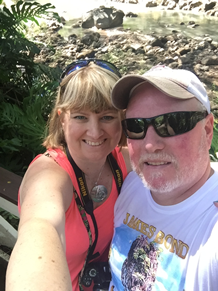 Cindie has taken on consulting roles with such Northwest companies as Expedia, Boeing, Microsoft and Russell Investments.
We recently asked Cindie a series of questions, touching upon her background and experience in the world of IT consulting.  Here is what Cindie had to say:
How have your life experiences prepared you for becoming a consultant?
Growing up, to say we moved frequently would be an understatement.  At least once a year, and sometimes multiple times a year, my family would pack the house and we would move again. Occasionally our new house was across town, but most often we were heading for far-away places.  I am the oldest of four. I didn't know at the time, but my family was poor.
My childhood unexpectedly prepared me perfectly for the consultant's life. I was constantly needing to "fit in" with a new crowd. I learned that being friendly and helpful was the best approach to making new friends and later to assisting new companies. I would not choose a different life. 
I have worked in IT for 27 years. I began contracting for companies in 1999 and have served nearly 20 companies that ranged from small unknowns to giants.
How did you find out about Murphy & Associates?
I met Erik Murphy many years ago while looking for work. I scoured the Murphy website and couldn't believe their consultant friendly policies. I knew this was a place I wanted to be involved with. My earlier contracts left me wary of agencies in general. I once found that a contract company was keeping more than 50% of the bill rate as their "fee". Those "other places" rarely matched my skills to a position and once I was working, I would never hear from them again.
What do you like best about consulting?
I can say enthusiastically that being a consultant is what gives me joy.  Each gig is a new opportunity to learn new things and influence positive change. These companies need us and our varied experience to guide them in their decisions. With us, they gain fresh perspective and unique approaches to their same old problems. We are able to speak freely without the office politics baggage of an employee.
What kind of firms have you most enjoyed working with?
For me, companies fall into 2 general categories: 1- Big, full of "process" and "policy" or 2- Small, seemingly chaotic, messes with almost no "process" or "policy".  I would choose the chaos every time.
You can make a difference for both types, but the impact can be so much more powerful when you are able to guide the direction of a project. In those situations, the smallest suggestions can make a huge impact. When you are not tied down to a certain way of doing things, creative solutions can emerge and flourish. You can find quicker paths to goals when you have less red tape to get there.
What advice would you give to someone that is considering becoming a consultant?
Is being a consultant right for you?  If you want to help a wide variety of people achieve their goals, if you like surprises, if you thrive on constantly changing directions, if you are confident, if you are tolerant to rejection, if you are humble, if you are able to express your opinion yet support a contradictory team decision, if you are tolerant to risk... you get the idea. If any of these ring true for you, you might love the consultant life. Give it a try. You can always go back to being an employee.
How do you spend your time when not working?
I am married to my best friend, Rob, and we have 2 grown children, Zachery (24) and Britney (21). Zachery lives and works in Port Angeles, WA with his girlfriend and dog. He graduated from Big Bend Community College with an Automotive degree and is a recent graduate of The Fab School, a metal fabrication learning facility. Britney graduated from Hawaii Pacific University this year with a degree in Oceanography and will continue to live and work on Oahu as she saves for a move to Australia next year.
We live in North Bend, WA with our 2 English Mastiffs, Shyna and Murphy (no relation).  We love to travel and last year we traveled to Craig, Alaska for an all inclusive fishing trip.  The trip was better than we could have imagined and we returned home with over 200 pounds of salmon, halibut, lingcod, and rock fish that we are still eating today.